October 10, 2023
National Researchers Weigh in on Future of AI at OSU Symposium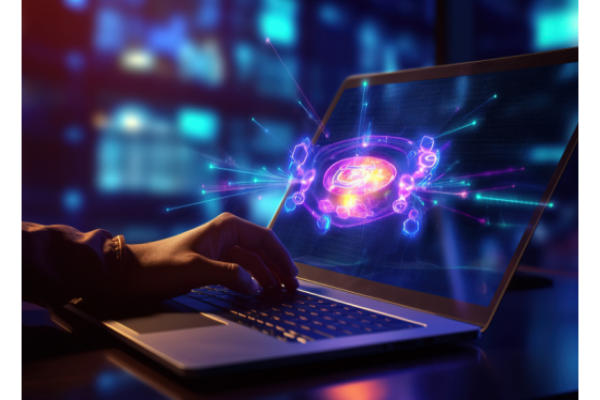 Technological breakthroughs should include safeguards, scholars say
 

Chris Bournea
Ohio State News
Scholars from across the country in multiple disciplines discussed the future of artificial intelligence (AI) and the ethical questions the technology raises during a Sept. 22 symposium at The Ohio State University. Centered on the theme "Is AI Justice Possible?" the symposium explored topics that included the use of AI in environmental science, criminal justice and the arts.
Ohio State's Humanities Institute and the College of Arts and Sciences presented the symposium at the Ohio Union as part of a joint project on artificial intelligence in engineering and arts and humanities.  
"It's the interaction among the different perspectives that is the goal of this project," said Barry Shank, Humanities Institute director. "We can address themes that are common, we can address differences of perspective."
Many scientists, futurologists and philosophers have predicted that the use of AI will lead to technological breakthroughs in the years ahead. However, the potential progress must be accompanied by safeguards to protect individuals' privacy, job security and personal safety, said Roman Yampolskiy, associate professor of computer engineering and computer science at the University of Louisville.
"We cannot indefinitely control smarter-than-us machines," he said. "That's problematic."
While AI poses threats that have yet to be determined, the technology has a myriad of positive uses, including enabling advances in environmental science, said Wai Chee Dimock, professor emeritus of American Studies and English at Yale University.
"AI can weigh in, in a way that can support both non-human ecosystems and support human communities, especially Indigenous communities," she said.
Dimock discussed the partnership between the Indigenous Tembé tribe in Brazil and the San Francisco nonprofit Rainforest Connection. Through the partnership, the Tembé people use upcycled cell phones to monitor illegal logging in the Amazon rainforest.
"It's a very, very advanced kind of phone," she said, "and it's made by STEM students."
Dimock also shared details about AI-powered technology built by Cornell University and the University of Hawaii that is used to monitor the health of transplanted, heat-resistant coral reefs in Mo'orea, French Polynesia.
"AI and power sensors can do a much better job than (humans) can" at monitoring coral reefs in remote locations, she said. "We're not good at analyzing masses of data. AI can do that."
Mathias Risse, director of Harvard University's Carr Center for Human Rights Policy, said the expedited rise of AI has ignited a debate about whether the technology will eventually develop a form of consciousness comparable to humans.
A key point in the debate, he said, is whether such technology should be entitled to the rights afforded to humans, such as the freedom to decide what type of work to pursue.
"This is a fascinating time for philosophers," Risse said. "There's a new kind of urgency to these issues in the context of artificial intelligence."
---