October 30, 2023
Brutus Calavera Coloring Contest Winners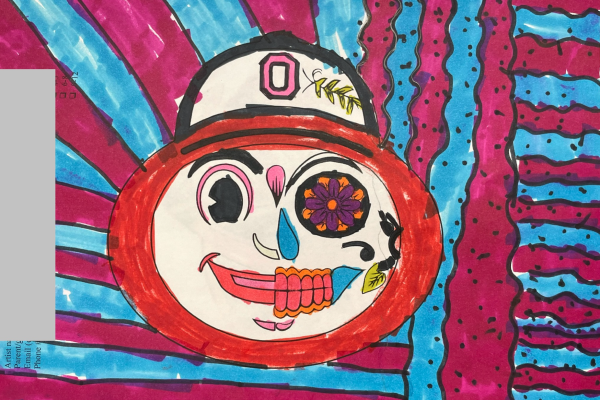 Congratulations to our winners in the Brutus Calavera coloring contest: Cooper M., Eda H., Juliana R., Brady B., Emily O., Jaxson R., Lucy P., Anika L., Carley P., and Janea M.!!!
Children in grades preK-12 throughout the state were invited to submit their entries, either by sending them to our offices, or by dropping them off at the OSU booth at the Columbus Day of the Dead celebration in Greenlawn Cemetery.
Thank you so much to all the participants, our judges, and parents and educators who welcomed Brutus calavera into your homes and classrooms. We received over 300 entries! 
This coloring contest aimed to introduce the holiday of Día de los Muertos to those unfamiliar with it, and worked to strengthen the relationship between Ohio State and Latinx culture. Maria Graciela Moser, EL teacher at a high school that participated in the contest, said, "[My students] were very excited to participate in an activity promoted by Ohio State University, especially for being something that gives them a space of visibility and recognition, since the majority of our students are Hispanic."
Prizes for this year included OSU swag, Day of the dead-themed coloring books, and tickets to: Columbus Museum of Art, OSU football, OSU basketball (both men's and women's), and Columbus Crew. Thank you to our partners for their generosity!
We're looking forward to receiving your amazing submissions next year!
Eight of the winning entries can be seen in in the slideshow, above, with the ninth entry on the right side of the screen. 
News Filters:
---